STUDIO RLON & SEGULA
A successful partnership
At SEGULA, we place great emphasis on good collaboration with top-class partners. One example is our cooperation with Studio RLON from Berlin. We would like to introduce you to this great team in this interview and show you the great results that come out of this partnership!
Who are you and what do you do?
We are Studio RLON from Berlin. We are a team of designers, engineers and craftsmen. Together we design and realise art and light installations as commissioned work for various clients.
In our projects, we pick up the special features of a company, a place or a brand and try to stage them artistically using light and motion. Actually, we are something like storytellers. The only difference is that our stories do not take place as text in a book, but as an installation in space.
In this way, we convey not only content but also emotions, so that a lasting impression is in the viewer's mind.
When it comes to lighting, we have always liked to work with linear lamps, i.e. the s14 tubes, which some people probably still know under the name 'Linestra'. The elongated shape of this lamp makes it very interesting from a design point of view, as it can be used to playfully create geometric shapes out of light.
Until recently, however, there were only wall brackets for s14 lamps.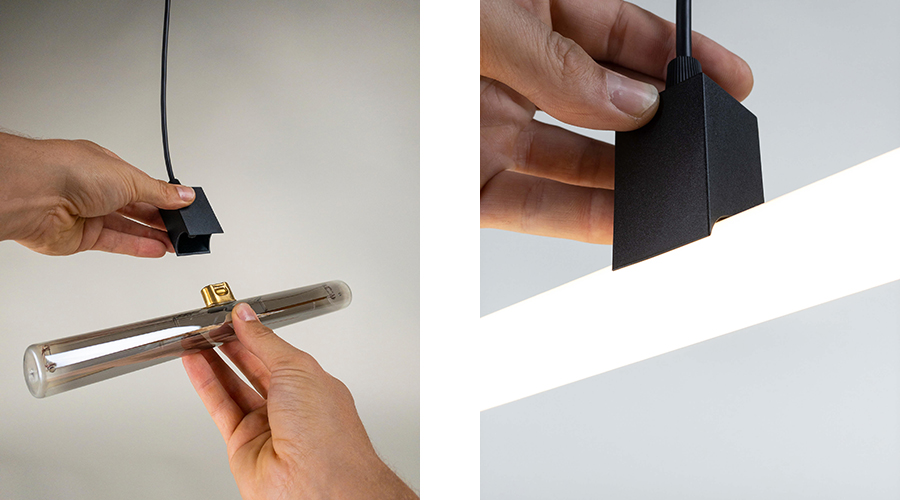 We thought that was a bit boring and started developing our own lampholder for our lighting installations, with which linear lamps can simply be hung on cables or mounted on pipes in the room. We then improved this lampholder again and again and finally it became our own system for s14 lamps. We call the system SYNTAX because in principle it is designed like a kind of construction kit with which individual modules can be combined to create lighting installations.
At the end of last year, we took it a step further and launched our first SYNTAX luminaires. Together with Segula, we now offer SYNTAX-lights, a series of minimal, modern luminaires exclusively for s14 line lamps. The first 7 luminaires are already available at SYNTAX-lights.com. More models will be coming soon.

How does a luminaire like this come into being? From the idea, to the material, to the finished "thing"?
As already mentioned, SYNTAX is designed as a modular system. This means that in addition to the lamps and our special lampholder, there is a selection of components that are compatible with each other. In our studio in Berlin, we now have a wide range of SYNTAX components that is constantly growing.
When we create a new luminaire or installation, it's almost like playing with Lego. Starting from a sketch or a rough idea from us or a customer, a prototype for the luminaire can be quickly produced, on which you can test the shape and impression. In this way, you can further optimise the design in a creative way until it is coherent and can go into production.
In the meantime, we have also digitally mapped our construction kit again, so that we can also display all luminaires as a 3D model. This is an advantage, especially for larger projects, because you can visualise more complex things more quickly in the 3D software and thereby get a feeling for the effect in the room at an early stage.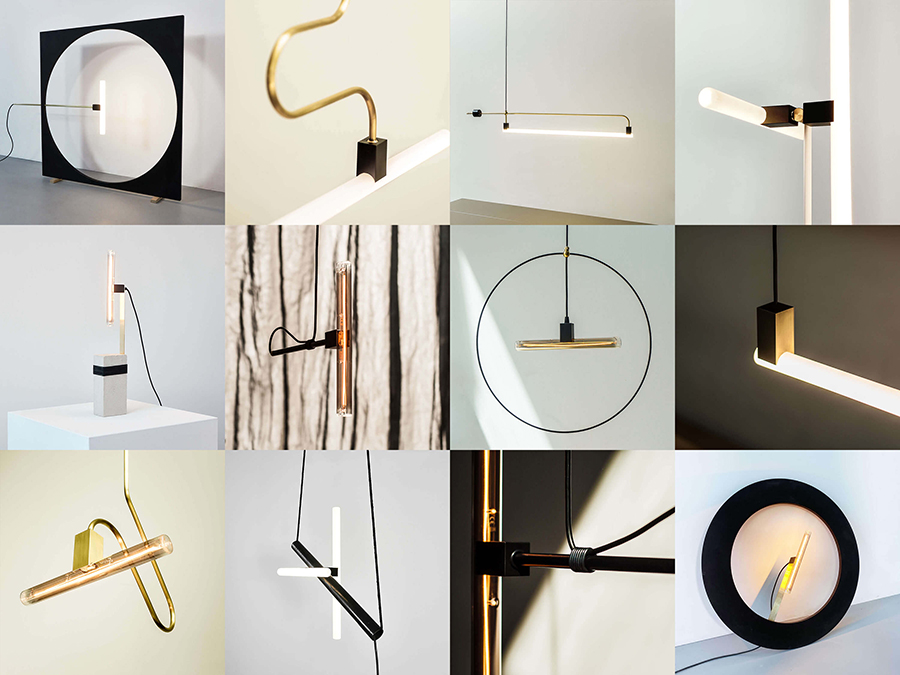 What is your motivation?
Light is probably the most exciting medium when it comes to designing interiors. It is not for nothing that light is also called the fourth dimension of architecture. The interaction of light and shadow supports the use of a place and at the same time creates its atmosphere.
We also find the creation of luminaires and unusual light installations exciting because these objects are often border crossers between art and design. A luminaire can be a sculpture and at the same time fulfil a practical function, namely to bring light to where it is needed.
There is also the aspect that luminaires always interact with the human. In the simplest case, this is on/off via the light switch. It becomes exciting when, for example, the brightness or the light colour can be controlled via dimmers or touch sensors. In the best case, a luminaire can then appear alive and take on something like a personality. 
 We like to think that our luminaires are also a kind of new roommate for our customers.

What projects have you already realized?
House Hungary
One of the first projects we realised with SYNTAX was a "light wave" for the venue Haus Ungarn at Berlin's Alexanderplatz. We modelled a 3-dimensional wave from a total of 64 line lamps, which extends over 5 rooms. The installation can be controlled and animated via DMX, so that the movement of a wave can also be represented via the light.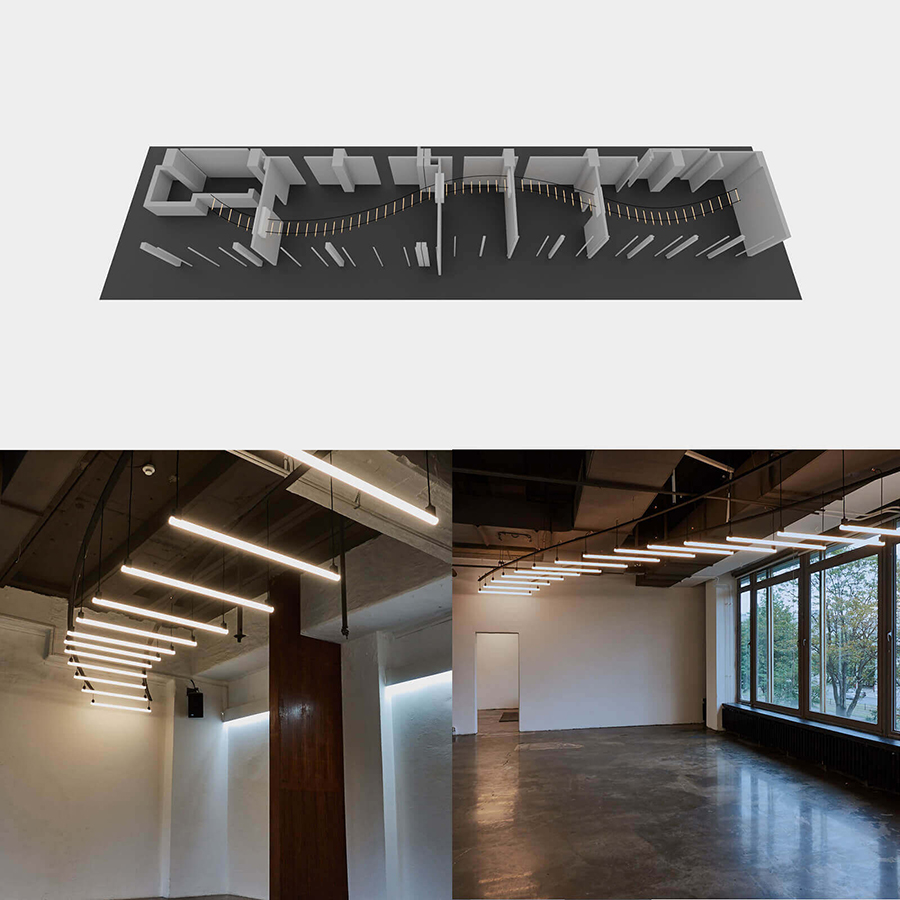 Baldon
For the Baldon restaurant in Berlin, we developed a series of special luminaires with SYNTAX that integrate perfectly into the architecture and playfully deal with the very high ceilings. The 'compass' luminaire was so well received that we are now producing it in series and distributing it together with Segula.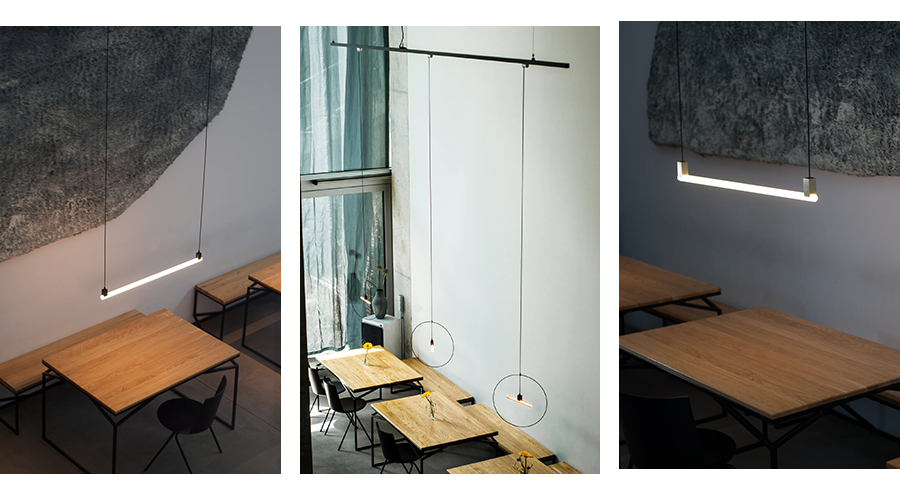 Ein Tag am Meer
A day at the sea
Even though we have a soft spot for linear lamps, we don't only work with them. A nice project to show the range of our work is the kinetic installation 'a day at the sea', which we realised for the Kaiserbäder in Usedom.
The task was to bring the feeling of a day at the sea in the form of a light installation into the rooms of the tourist information in Heringsdorf. For this purpose, we developed a kinetic sculpture made of stainless steel, which is moved in a wave-like manner by a motor. The result is the typical light reflections familiar from sunlight on water.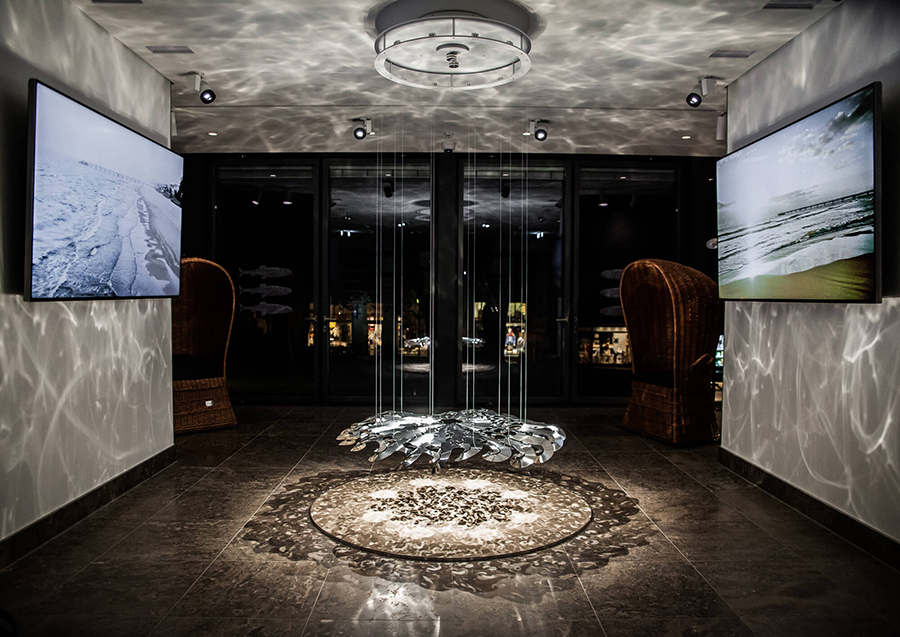 http://rlon.com/ein-tag-am-meer/
Why did you choose SEGULA as your partner?
When we started developing SYNTAX, we didn't know Segula at all. A lighting designer friend of ours then drew our attention to you: "… there's this company from southern Germany that builds LED Linestras out of glass. They look like the classics, that could be something for you…. ." Yes, and of course it was, as they say today, a 'match'. In fact, we don't know of any other s14 lamps that have such a high-quality finish and whose LED filament can be dimmed so well. At the same time, however, you only had the conventional wall mount for it on offer, which doesn't do this great lamp justice at all.
So we were probably able to quickly convince you of SYNTAX and our vision of taking the principle of linear lamps even further. What's more, it's also a good match on a personal level and we enjoy working together. We will surely develop many more exciting things together. We are already looking forward to including the new version of the S14d 100cm in our SYNTAX modular system. This will open up completely new possibilities.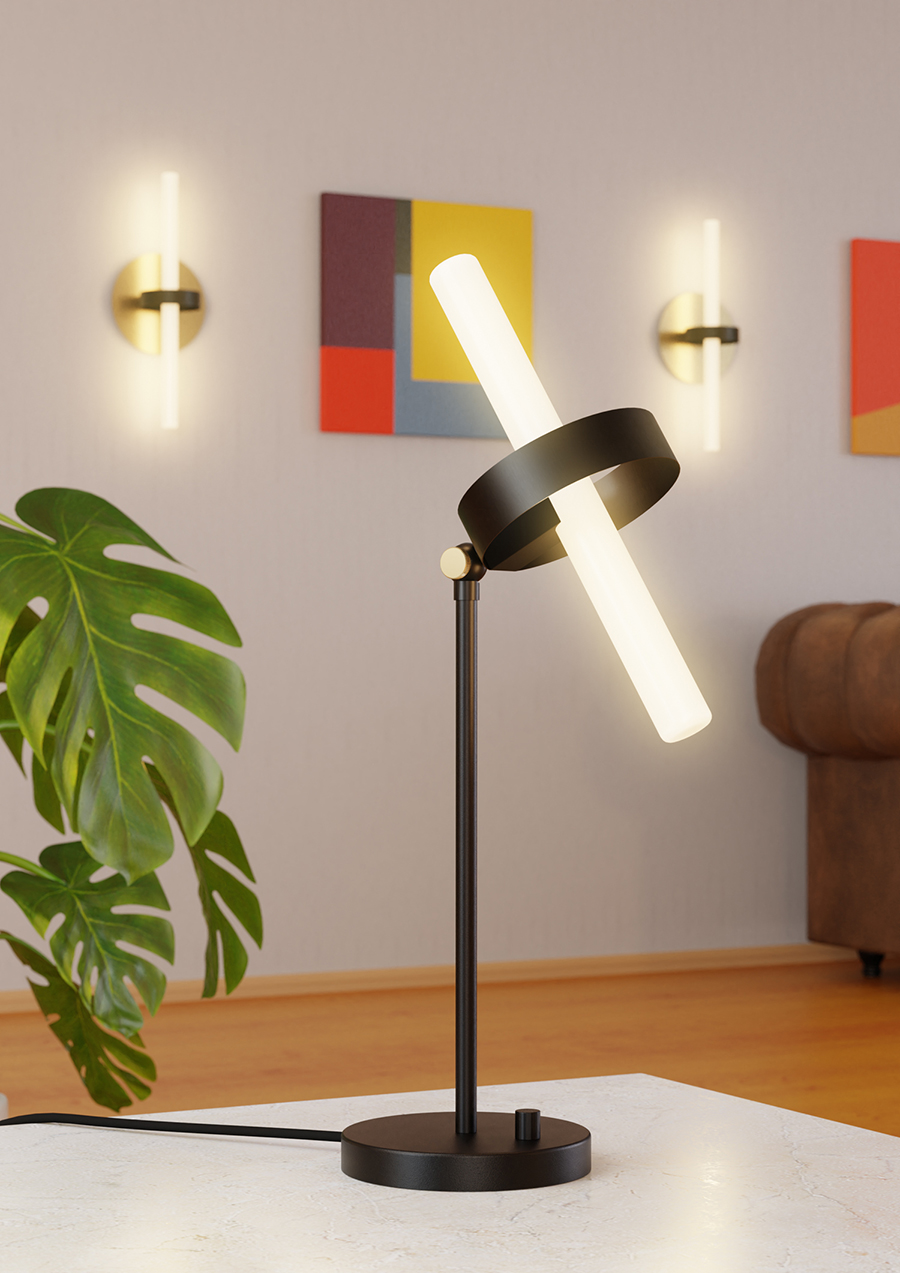 The S14 luminaires are of course available in the Online Shop. And of course the matching S14 linear lamps are also available. Just take a look and let yourself be inspired.
cooperation, linear lamps, partner, products, RLON, S14d, Studio RLON, Syntax