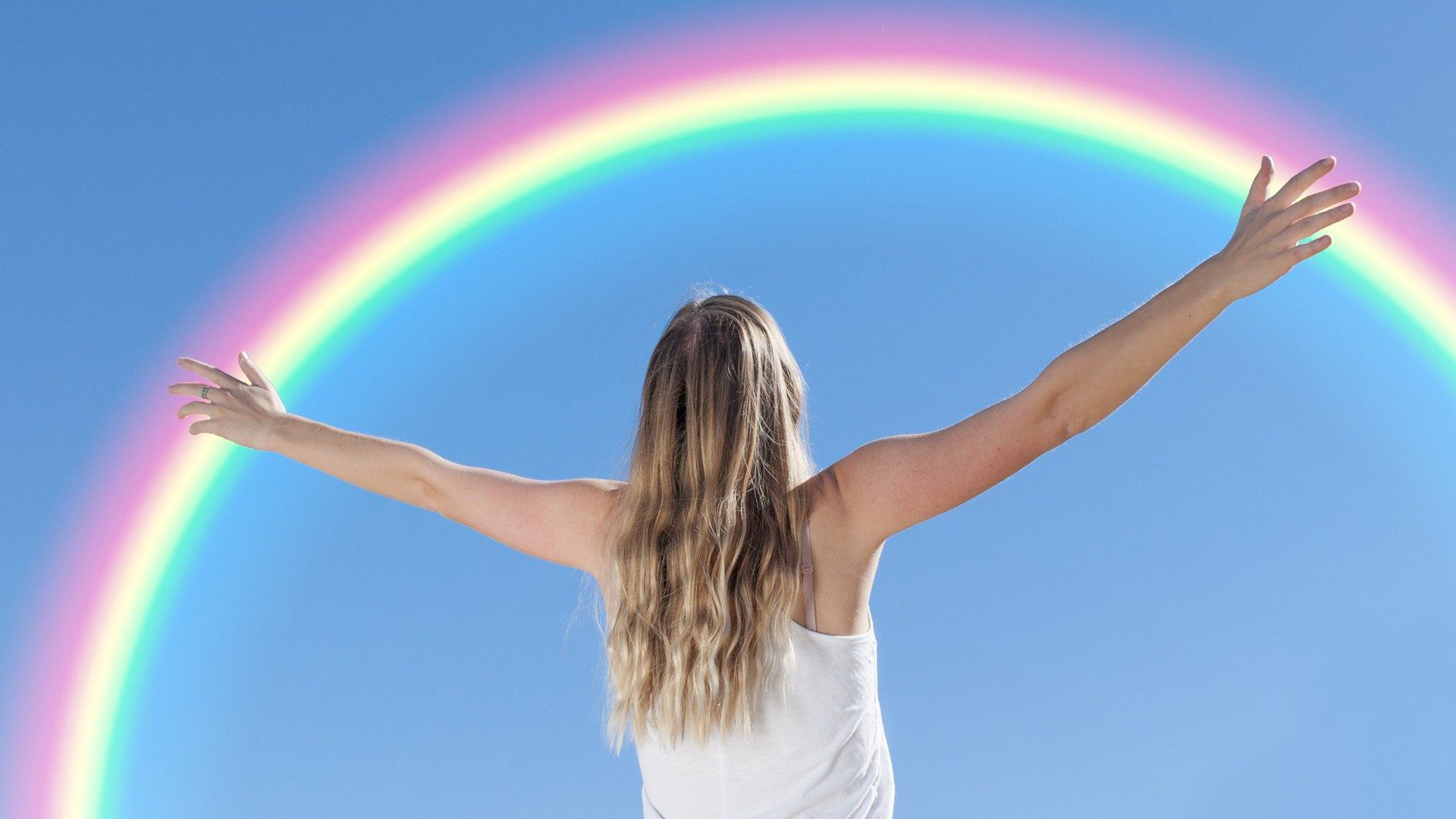 THE LIGHT SPECTRUM
ABOUT DAYLIGHT AND LED
Why should we try to adapt our artificial lighting to natural light?
Quite simply because our bio-rhythm, our inner clock and our entire well-being depend on this cycle and it is important to pay attention to it!
THE COMPLETE COLOUR SPECTRUM
Of the entire electromagnetic spectrum, only a relatively small range can be perceived as visible light. Our eye detects visible wavelengths from blue (approx. 400 nanometres) to red (approx. 700 nm). These wavelengths together, put in the same ratio, result in the "white" light that is visible to us. It appears neutral to us, although it is a sum of different colours. When light shines through a prism, water or an optical grid, for example, it is broken down into its spectral ranges and we recognise the different colours. The best example is the rainbow.
THE DAYLIGHT SPECTRUM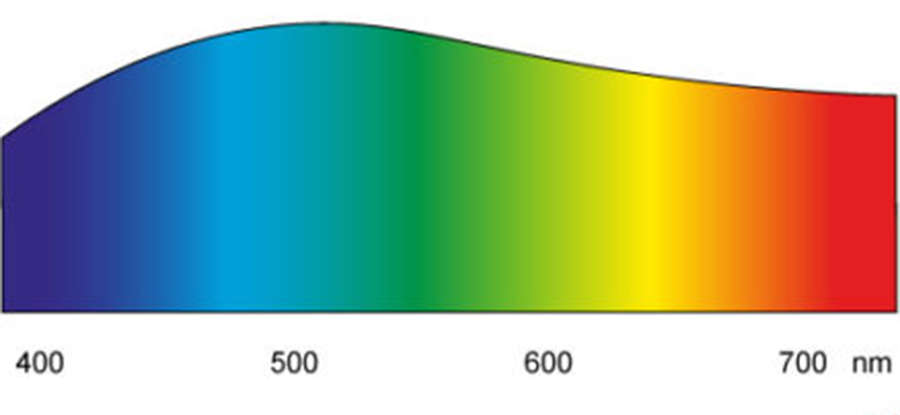 Natural daylight covers all areas of the visible spectrum. GREEN is the most pronounced colour. This also explains why we have the most receptors for green light in the human eye. Green appears natural, calming and pleasant to us. We do not have to make an effort to perceive it.should take into account when setting up our computer workstation in terms of lighting!
ILLUMINANTS AND THEIR LIGHT SPECTRUM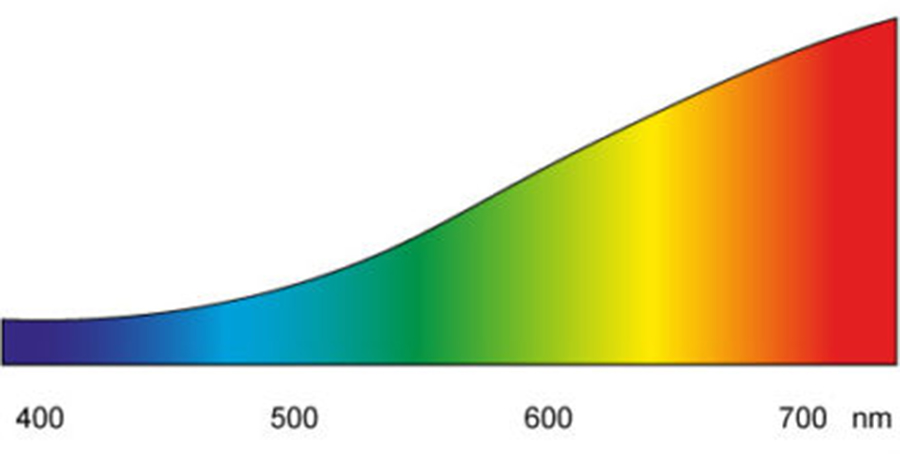 The classic incandescent lamp with the tungsten filament emits a warm, friendly light, based on the spectrum of the sunset. Red, orange and yellow are more strongly represented than blue and green. No wonder we feel comfortable in this atmosphere. Incidentally, the light of an incandescent lamp also has an excellent colour rendering index.
FLUORESCENT AND ENERGY SAVING LAMPS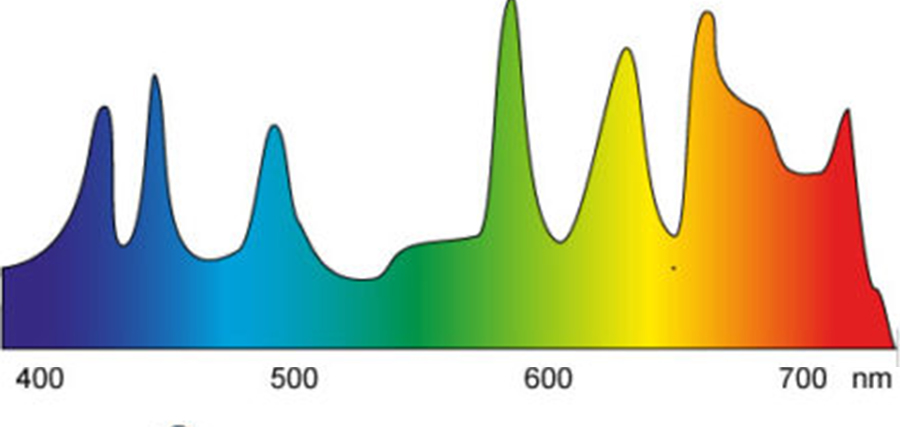 Fluorescent / energy-saving lamps, which also include gas discharge lamps, often have very uneven spectra. This is simply due to the technology and the very different luminescent materials and gases used. The peaks in the spectrum are often in the green or blue range, which is why the lamps are often perceived as cool and sometimes even "icky". However, these lamps will be withdrawn from circulation by an EU regulation that will soon come into force, as they contain toxins in addition to the unattractive light, are difficult to dispose of and consume an unnecessarily large amount of electricity!
LED LAMPS AND THEIR LIGHT SPECTRUM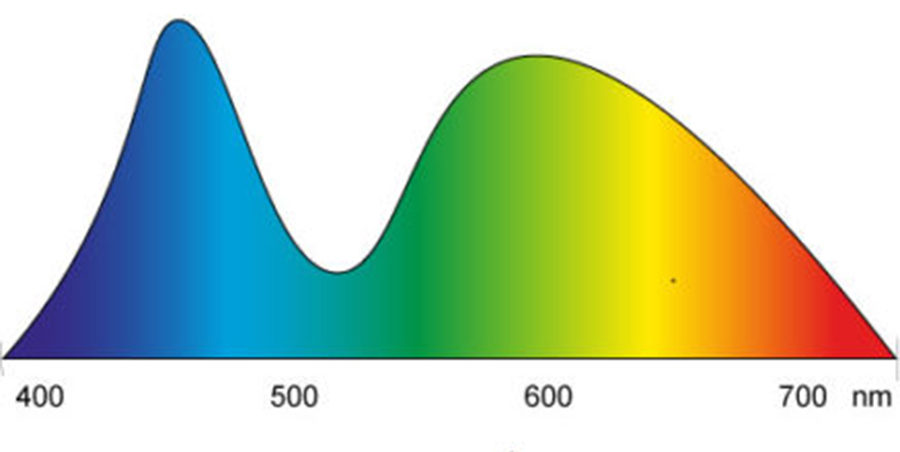 First of all: There is NO LED that emits pure white light. Two techniques are used to give an LED the appearance of white light.
RGB mixing – red, green and blue diodes are mixed in different ratios to produce white light. Unfortunately, this usually results in an uneven, disjointed colour spectrum, often with peaks in the blue range that should actually be avoided.
Blue LED light is converted into more yellow/warmer light through various luminescent layers. The most commonly used phosphor is a yellow fluorescent layer made of various phosphor compositions. Phosphors are ceramic-like, inorganic compounds of rare earths. They include phosphate, silicate and oxonitrido aluminium silicate. Depending on the composition of the phosphor, violet light can contain a variety of coloured light from blue to red. The composition and quality of this layer is what determines the colour temperature and light spectrum of an LED lamp.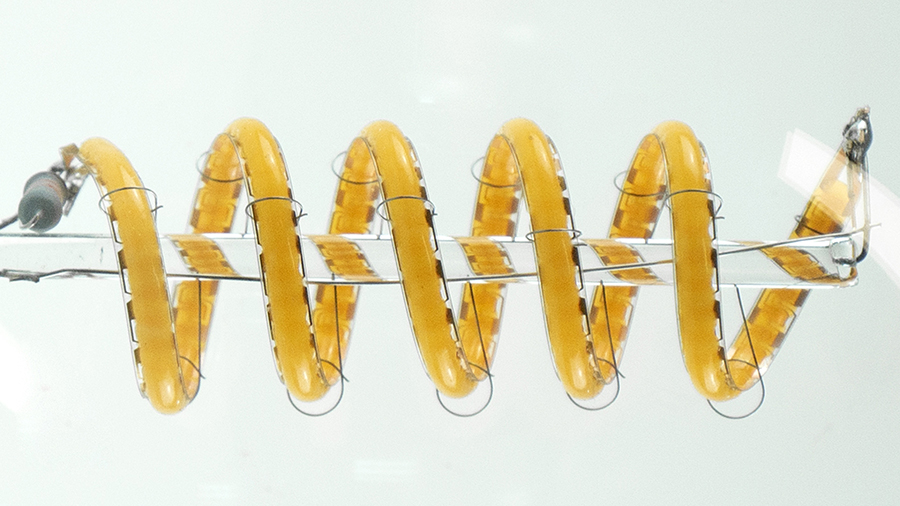 The second variant is very often found in modern filament LED lamps, which now come very close to the good old light bulb in terms of colour and light quality. But they are much more efficient and economical!
The light spectrum of our artificial lighting has a great influence on our daily life and our well-being. That is why we should pay close attention to good and high-quality light sources. A uniform colour spectrum is an indication of the high quality of an LED lamp. Due to their warm light colour, SEGULA LED lamps have a uniform spectrum with low blue content and low peaks. This creates an incomparably pleasant lighting mood and atmosphere. Comfort Zone Deluxe with the right light!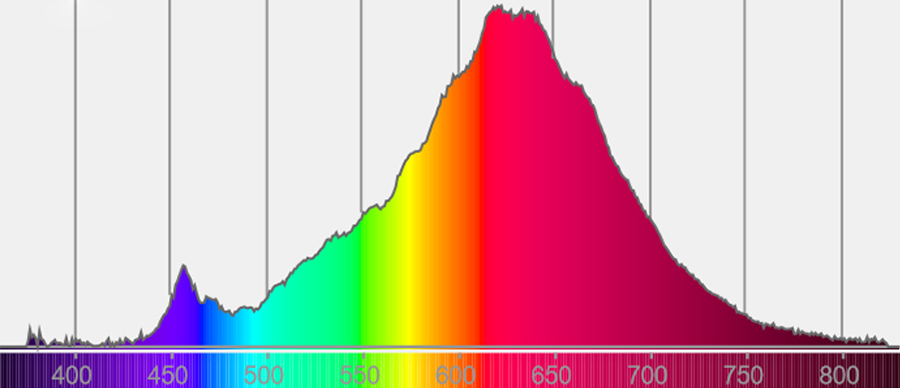 Human and light, LED, LED illuminant, LED light colour, LED lighting, LED Technology, light colour, SEGULA LED